If you have been to Venice, Bacaros could have been one of the places that you frequent to get a taste of a Venetian life. Lining the streets of Italy, these traditional wine bars provide wide range of nibbles and drinks, both detectable and affordable at the same time.
Welcome to
&SONS
- an Italian cafeteria by day, a Venetian bar by night. Nestled among the shophouses along Nankin Street, its location couldn't have been more apt to exude the warm and welcoming atmosphere of a bacaro. And indeed, as I walked into this dimly lit bar, I was won over by the welcoming smile of their people and the coziness of the setting. I was delighted to know that most of the staff are Italians, and have received proper training before dedicating their work here. For someone who only know that much about Italian cuisine, I really appreciate having a learned person to guide me through the menu.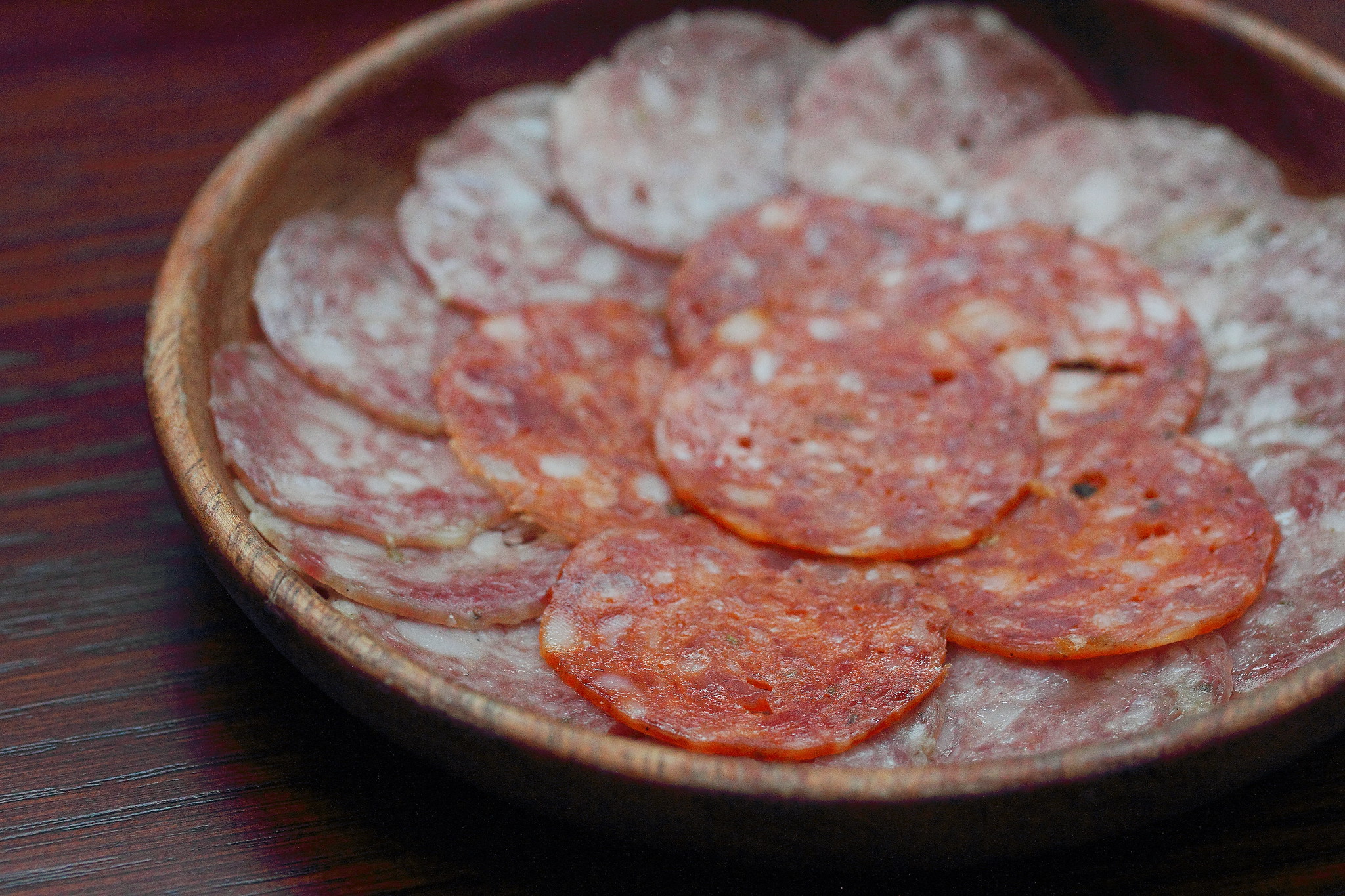 Salame Dolce & Piccante
4/5
Black Pork Capocollo
3.5/5
We started off the evening with
Salame Dolce & Piccante
($8) and
Black Pork Capocollo
($9). These items are fresh off their custom-made curing room, just situated on the right hand side of the bar. If this is the first time that you heard about a place making their own specialty-cured meats and salami, that's because no one has done it before! The salami were flavorful, especially the piccante, with mild taste of spices. Capocollo were extremely soft with its paper thin texture, but slightly too salty for my liking. We sandwiched it with
Garlic & Herb Foccacia
($5), which are freshly baked daily. But given their delicate portion and taste, I reckoned that the dough wasn't necessary, especially when I already had a glass of wine on hand.
Paccheri, Iberico Pork & Truffle
3.8/5
Tagliolini, Crab & Nduja
4.5/5
We then moved on to some of the bar's specialities -
Paccheri, Iberico Pork & Truffle
($15) and
Tagliolini, Crab & Nduja
($9). Both dishes showed skilful cooking, with each dominating different spectrum of tastes. Because of the truffle besciamella, paccheri was mellow and creamy. I really like the pulled pork that was enclaved in the centre, which were really tender. However, the pasta was slightly too doughy for me, similar to that of a lasagne. On the other hand, Tagliolini was bold, flavoursome and extremely additive. The springy pasta was evenly coated with Nduja, the awesome sauce that gives this dish its unique flavour.
Wagyu Beef Tagliata, Salsa Verde
4.5/5
Veal Ossobucco, Orzotto
4.2/5
For the meats, we had
Veal Ossobucco, Orzotto
($19) and
Wagyu Beef Tagliata, Salsa Verde
($26). I felt that both meats were prepared in ways that brought out their flavours really well. The cross-cut veal shanks braised with the broth were wholesome and hearty. The beef tagliata received a much simpler treatment, only tossed together with some greens hence retaining the juiciness and texture of the thinly sliced beef.
Asparagus, Garlic & Anchovy Sauce
4/5
From the Charcoal Grill section, we had the
Asparagus, Garlic & Anchovy Sauce
($9). Though I'm not a fan of anchovy sauce, I loved the charred taste of the asparagus and not to mention the firmness and crunchiness of it.
Baccala Cakes, Sea Urchin Sabayon
4.5/5
Given the generous portion of the food, I was almost filled to the brim when another of their highlights came -
Baccala Cakes, Sea Urchin Sabayon
($13) – the &SONS' version. What intrigued me was the colour of the Baccala Cakes - Midnight black. The Chef had actually coated 'cake' (stuffed with baccala, béchamel sauce and potatoes) with black squid ink crumbs before deep frying it. What a combustion of tastes and textures in my mouth! The bechemel sauce and the salted cod balanced each other really well. After deep frying, the crumbs formed a thin crispy layer around the mash giving a bite to it. Pairing these cakes with their special sea urchin sauce which was tangy and creamy. It is a must-have.
In between, we managed to squeeze in 2 items from their Cafeteria by &SONS menu (only available during lunch hour) -
Bucatini Carbonara
($8) and
Pork Milanese
($9). Although the portion was really generous given that kind of price, as for the taste wise, I would say the ala carte menu is a much better option.
Cantucci & Vinsanto
3.8/5
As for the desserts, between our choices -
Raspberry Zabaione
($12) and
Cantucci & Vinsanto
($12), I thought the latter was more interesting. Dipping the Biscotti into the sweet wine was something different for me. I felt the taste of it would have been better if the biscotti was less sweet, so as to balance the sweetness of the wine.
Before we end the evening, we had the privilege to take a look at their curing room. I'm really glad that &SONS is here in our local scene to deliver authentic Italian offerings. It is certainly not just a façade which I had patronised a few before. With food, wine starting at $8, cocktails starting at $10, and together with the quality of their food and service, I feel it truly lives up to the spirit of a bacaro.
Written By Si An. A girl who is allured by travelling, loves the feel of freedom, smell of the rain and the aroma of fine coffee and food.
&SONS
China Square Central
20 Cross Street
#01-19
Singapore 048422
Facebook:
http://www.facebook.com/sons.bacaro
Website:
http://www.sons.com.sg
Nearest MRT: Chinatown (DT Line, NE Line), Telok Ayer (DT Line)
Opening Hours:
Mon-Fri: 1130am - 1pm
Sat: 6pm - 2am
(Closed on Sun)
Direction:
1) Alight at Telok Ayer MRT station. Take Exit B. Walk down Telok Ayer Street towards the direction of China Square Food Centre. Turn left onto Pekin Street. Continue until the end of Pekin Street. Cross the road to Nakin Street. Walk to destination. Journey time about 8 minutes.
[Map]
2) Alight at Chinatown MRT station. Take Exit F. Walk to the junction of South Bridge Road and Upper Cross Street. Cross the road and walk to China Square Central. Walk towards Nakin Street and turn right on Nakin Street. Walk to destination. Journey time about 8 minutes.
[Map]