The folk at Si Wei Mao Cai (思味冒菜) has opened a new Chuan Chuan Xiang concept -
Si Wei Xiao Chuan Chuan (思味小串串)
just a few doors down the road at Mosque Street. It is a hotpot concept whereby the dishes comes in sticks and cooked in the hotpot.
Ordering here is quite simple. First is to chose the soup base among the 7 different choices. We went for the
Mixed Pot
($12) with two choices of soup base. For the soup base, we had the
Sichuan Spicy Soup with Butter Oil
and
Tomato Soup
. The sichuan spicy soup base is really fragrant while the tomato soup impressed me a lot. Made with real tomatoes, you can taste the different and freshness in it compare to those cost saving restaurants. It is the best tomato soup base I have eaten.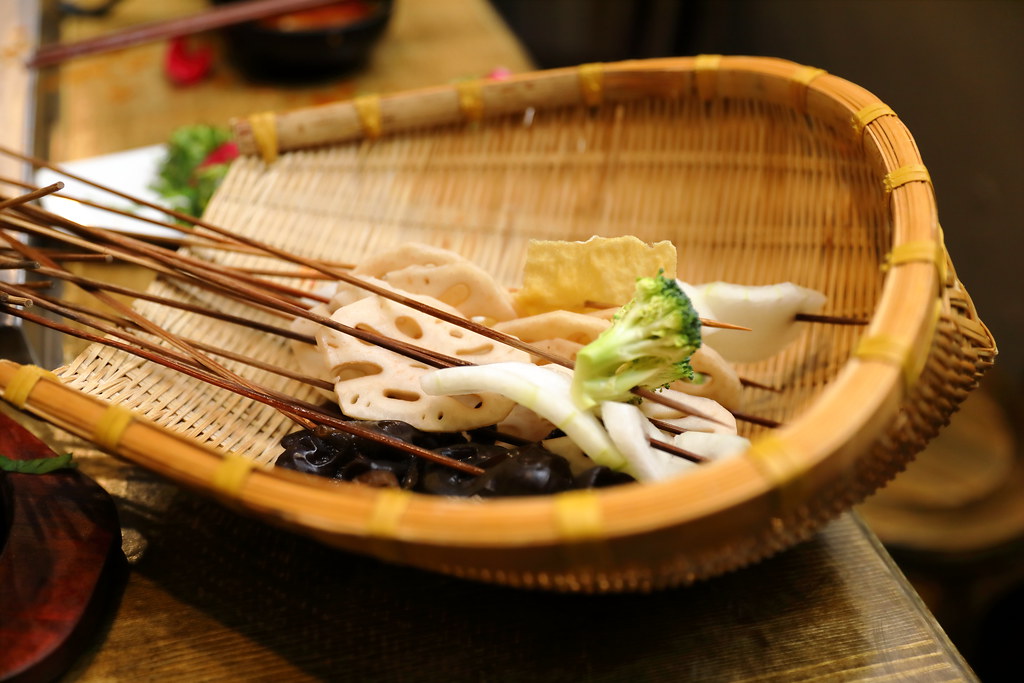 Next is to pick your ingredients which comes in sticks from the ordering sheet. Each stick ranges from 30 cents to 50 cents. A variety of meats and vegetables are available on the menu.
Chuan Chuan Xiang Hotpot
4/5
The last step which is the most simplest is to dip the sticks into the boiling soup base and cook the ingredients for consumption.
Special Dipping Sauce
4.5/5
A note worthy is the
Special Dipping Sauce
which complements the food excellently. It is made up of a concoction of garlic, oyster sauce, sesame oil and minced peppercorn
Chinese Herb Shrimp Paste
4/5
Pork Balls with Coriander
4/5
and Scallops
4/5
Besides the different ingredients that come in stickers, there are also more premium ingredients that are served plated ranging from meat, seafood and vegetables to make it an even more sumptuous meal. Some of the items we ordered are
Chinese Herb Shrimp Paste
($8.80),
Scallop
($3 each) and
Pork Balls with Coriander
($6.80).
There are also so exotic ingredients on the menu for more adventurous diners such as the Beef Tripe, Beef Tongue, Beef Tendon, Frog and Fresh Pig Brain. Guess I am the adventurous type as I ordered the beef tongue. I have always enjoyed the crunchy texture of it.
I was so excited when I saw
Pig's Brain
on the menu. It is a dish I have not eaten for a long time. The pig's brain here is cooked in a spicy mala sauce which complements the creamy texture excellent. I think I was basically the one finishing up the whole bowl.
A great hotpot place needs to have 2 basic elements, good soup base and fresh ingredients. Si Wei Xiao Chuan Chuan (思味小串串) has definitely manage to do so. In addition, it is quite a fun and interactive experience to be cooking and eating with a group of friends.
Note: This is an invited tasting.
Si Wei Xiao Chuan Chuan (思味小串串)
31 Mosque Street
Singapore 059509
Tel: +65 69261630
Facebook
Nearest: Chinatown (DT Line, NE Line)
Opening Hours:
Daily: 12pm - 11pm
Direction:
1) Alight at Chinatown MRT station. Take Exit A, E or F. Cross the road and walk to Mosque Street. Walk to destination. Journey time about 5 minutes. [
Map
]