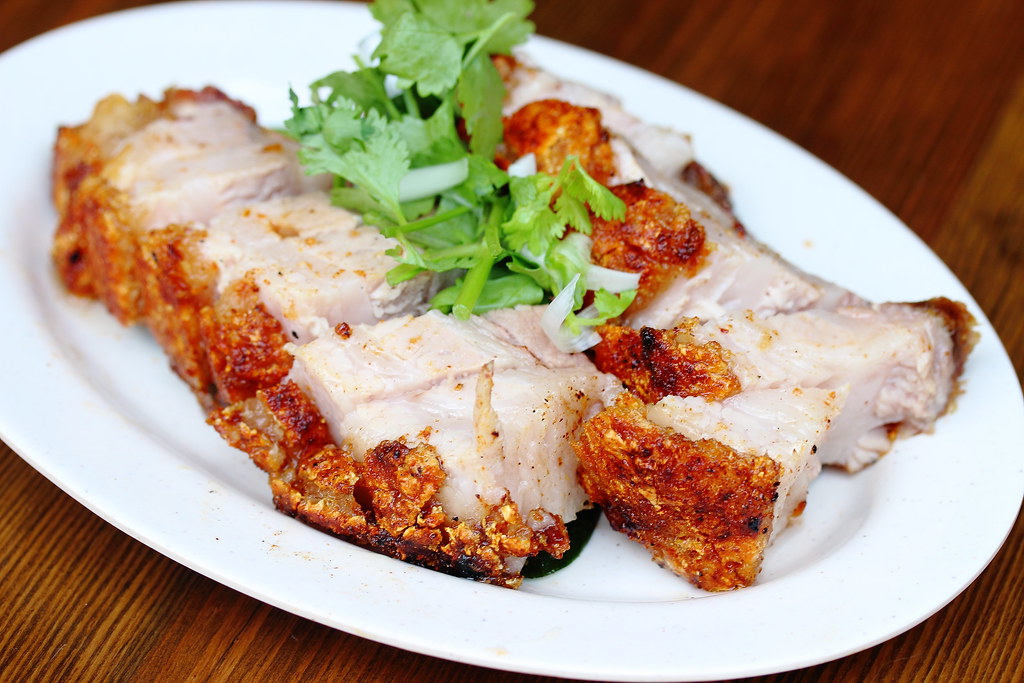 My favourite sio bak stall has moved again. Since I was first introduced to Martin's roasted meat stall when he was in Tampines, I have been following his movement when he moved to Johor, Malaysia and back in Singapore at
Bukit Batok
and
Foch Road
.
88 Hong Kong Roast Meat Specialist
has now moved down the road to Qinan Building at
Tyrwhitt Road
.
With his new location, a group of us organised a trip down to support his new opening. Of course we have to order his famed Roasted Pork Belly or Sio Bak. The beautiful layers of meat with its biscuity crackling skin is still as good as afar. Only one word to describe it, this is shiok!
An item that Martin has been able to improve with time is the
Roasted Duck
. The glistering skin was has a slight crispiness on top of the fat and juicy duck meat. The group of us all agreed that the roasted duck today was top notch. Looks like Martin has mastered another dish using his Apollo oven.
I still remembered that when I first tried Martin's char siew I did not like it. Over time he has improved on the roasting. Now the char siew has a nice coat of sweetness that is complemented by the bitterness of the exterior charred. Martin has purposely roasted in darker for that balance and aroma.
Soya Sauce Chicken
3.8/5
and Chicken Rice
4.5/5
With the relocation, Martin has also hired a new chef who used to work in a popular chicken rice chain to offer
Soya Sauce Chicken
and
Chicken Rice
on the menu. The soya sauce chicken is cooked to an enjoyable texture but I did not like the gooey sauce that is drenched over the chopped chicken. I thought it masked the appreciation of the nature flavours.
By the way, I would highly recommend to ask for the Chicken Rice instead of white rice even if you are having other roasted meat. The new chef cooks a plate of delicious and aromatic chicken rice infused with the essence of chicken, garlic and ginger. Not forgetting the tangy chilli sauce made by the new chef. It goes very well with the rice, chicken and even the sio bak.
88 Hong Kong Roast Meat Specialist
Qinan Building
153 Tyrwhitt Road
Singapore 207566
Nearest MRT: Lavender (EW Line), Bendemeer (DT Line)
Opening Hours:
Daily: 11am - 8pm
Direction:
1) Alight at Lavender MRT station. Take Exit B. Walk to bus stop at Lavender MRT station (Stop ID 01311). Take bus number 133 or 145. Alight 2 stops later. Walk to Tyrwhitt Road. Walk to destination. Journey time about 8 minutes. [
Map
]
2) Alight at Lavender MRT station. Take Exit B. Walk to Horne Road. Walk down Horne Road. Turn right onto Tyrwhitt Road. Walk to destination. Journey time about 10 minutes. [
Map
]
3) Alight at Bendemeer MRT station. Take Exit. Walk to the junction of Lavender Street and Kallang Bahru. Cross the road. Turn right and walk down Lavender Street. Turn left onto Trwhitt Road. Walk to destination. Journe time about 10 minutes. [
Map
]