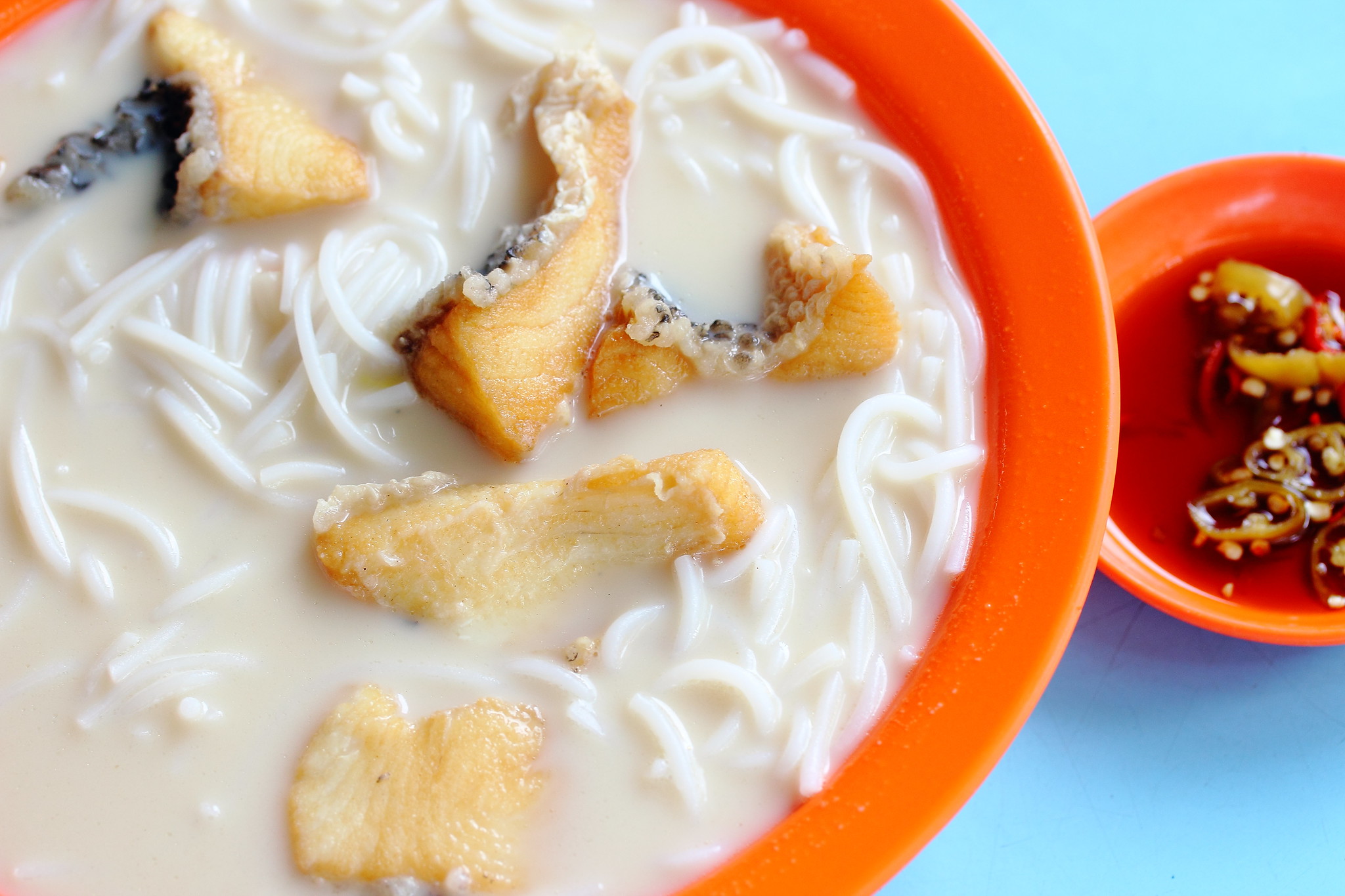 If you are to ask around where to find the best XO Fish Head Bee Hoon, probably most of them will recommend you
Holland Village XO Fish Head Bee Hoon
at
Dover Crescent
. As the name suggested, it was originally at Holland Village before relocated to its current location.
From what I read, the story of how the XO Fish Head Bee Hoon comes about because a former XO salesman who enjoyed his brandy some much that he added a few dash into the creamy fish soup, accentuating the flavour. This is eventually adopted by the stall and become a popular dish with many others copying soon.
XO Fried Fish Meat Bee Hoon
4.2/5
The stall sells both the
Fried Fish Meat Bee Hoon
and
Fried Fish Head Bee Hoon
at $6 / $10 / $15 / $20 / $20-$25. For those prefer to have the XO added to the soup, it costs slightly more at $7 / $12 / $15 / $20 / $20-$25. While gourmand may prefer the fish head bee hoon, I actually prefer the fish meat for its meaty texture and ease of consumption. The highlight needless to say is the robust soup which was accentuated by adding brandy during the boiling stage to fragrant the flavour of the soup. With the addition of ginger that removes any fishy taste.
Frankly many people have said that the standard has dropped over the years. Even so, I think it is still a decent bowl of fish bee hoon soup. It is still my to go place if I am craving for a bowl of the warm and comforting fish soup.
Holland Village XO Fish Head Bee Hoon
Blk 19A Dover Crescent
#01-05
Singapore 131019
Tel: +65 67783691
Nearest MRT: Buona Vista (CC Line, EW Line), Dover (EW Line)
Opening Hours:
Daily: 1130am - 2pm, 5pm - 10pm
Direction:
1) Alight at Buona Vista MRT station. Take Exit A. Walk to bus stop at Commonwealth Avenue West (Stop ID 11191). Take bus number 105, 106, 147 or 185. Alight 1 stop later. Walk to destination. Journey time about 5 minutes. [
Map
]
2) Alight at Dover MRT station. Take Exit B. Walk to bus stop at Dover MRT staion (Stop ID 19039). Take bus 105, 106, 147 or 185. Alight 2 stops later. Cross the road. Walk to destination. Journey time about 8 minutes. [
Map
]